Northwich Ironing Services
Ironing freshly pressed and delivered to your doorat a time to suit you.

To make a booking at a time to suit you call
01606 870001
Our pricing structure is simple so you can work out exactly how much our ironing service will cost you.
Prices are per item
General Clothing (tee-shirts, shirts, jeans, trousers  etc) - £0.85
Pillow cases - £0.65
Single Bed Sheets - £1.30
Double Bed Sheets - £2.40
King Bed Sheets £3.50
Single Duvet - £1.40
Double Duvet - 2.50
King Duvet - £3.60
Small Table Cloths - £1.10
Large Table Cloths - £2.25
Opening Hours
Monday - Friday - 09:00-17:00
Saturday - 09:00-12:00
Sunday - CLOSED
Additional Costs
Collection and delivery charge*  - £3.50
Minimum Charge* - £16.00 plus delivery
Additional fees apply to areas outside Northwich
* Applied to each order
If you have a query before you book, why not call us....
Simply complete the form or call 01606 870001 and one of the team will book at a date and time to suit you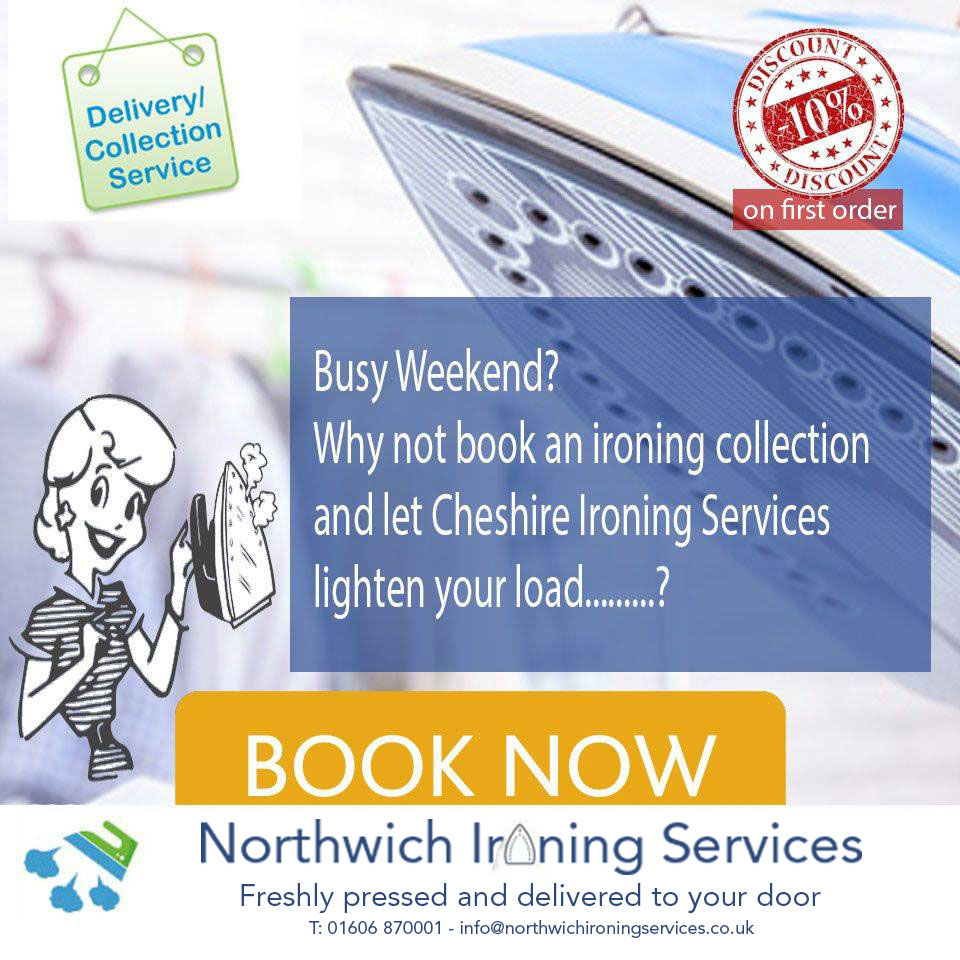 Here's what some of our customers have said about our Ironing Service.
Mrs Yardley

"How do i put a review on your website? 
Absoultely fabulous service, can't do without you now!"
Mrs Greene

"Very happy with the excellent service provided by your ironing Service, we will keep using you on a weekly basis going forward."
Mr Cransley

"I have used a number of ironing Services, but this is brilliant, one day turn around with collection and delivery at a time to suit me. Fantastic"
If you think we provide an excellent service why not recommend a friend to use us. As a thank you once your friend has use the service we will give you 20% off your next ironing order.